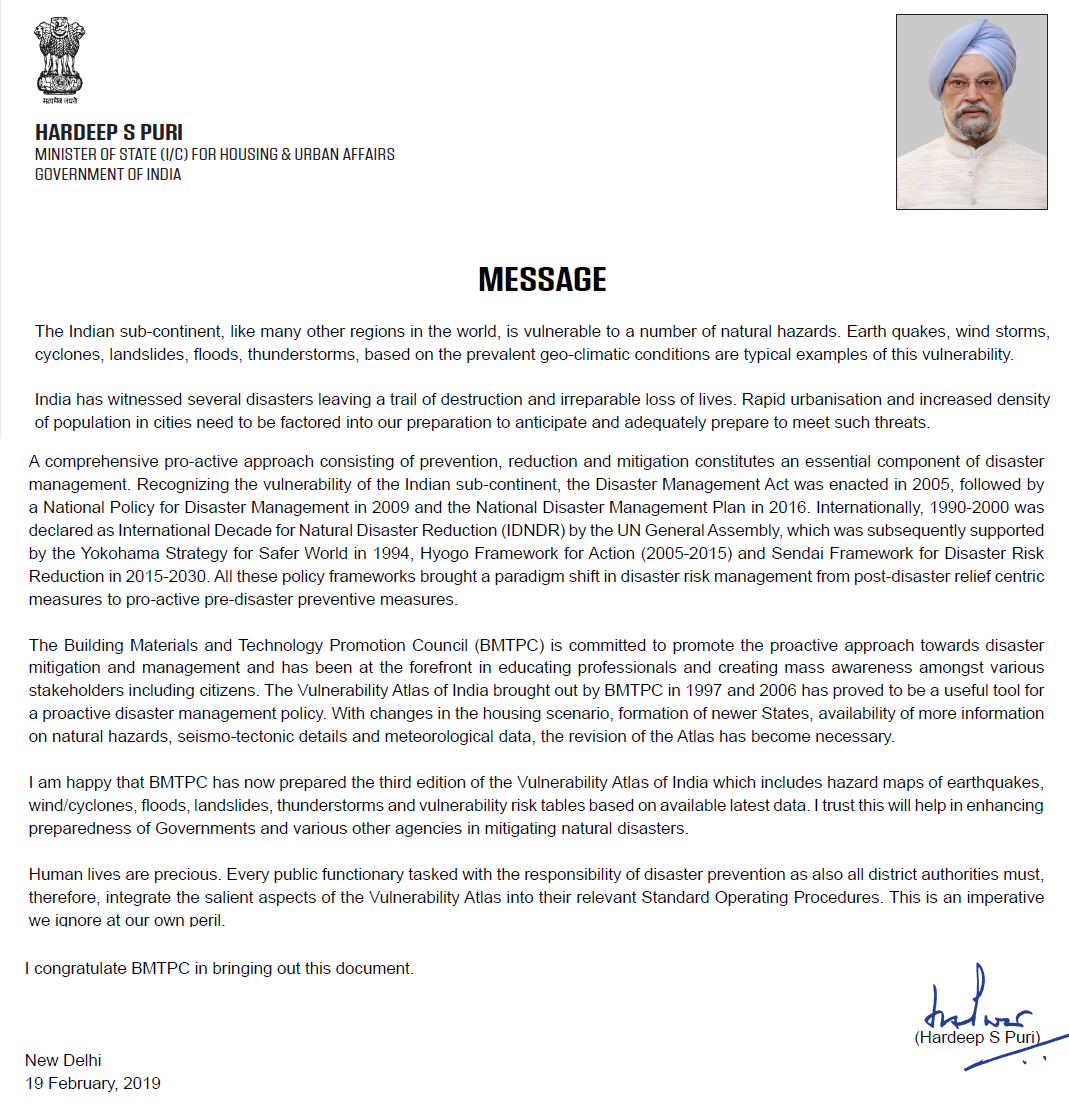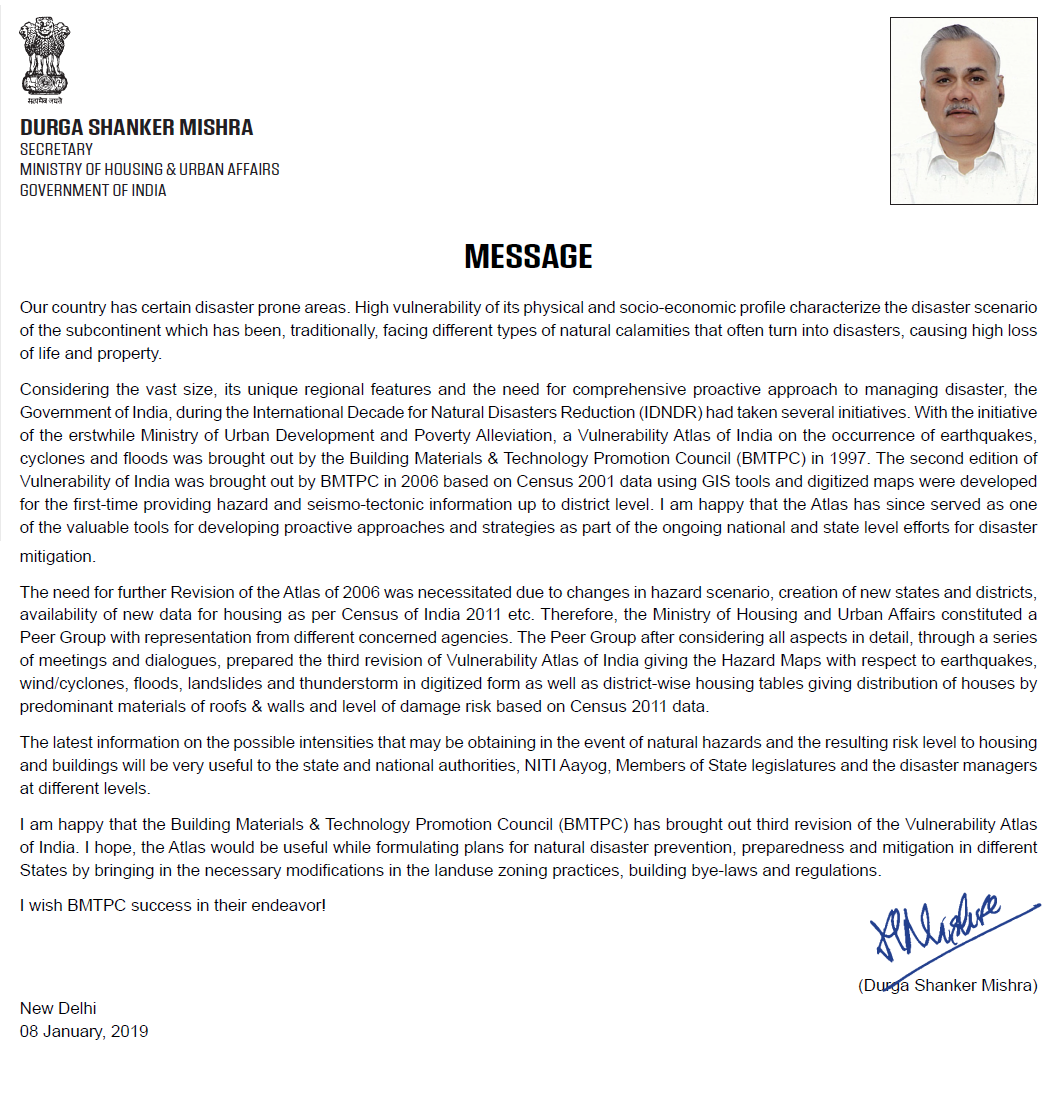 INTRODUCTION
India has a history of disasters leading to irretrievable losses to lives and properties on account to its geological settings and distinct demography. Natural hazards which can be broadly classified into geophysical hazards (earthquakes, landslides & tsunamis), hydrological hazards (floods), meteorological hazards (cyclones, storm surges), and climatological hazards (thunderstorms) are common phenomenon in Indian subcontinent, however the recurrent hazards leaving trail of destruction is the cause of worry. Realizing the need, there have been concerted efforts made by Government of India to bring paradigm shift in its approach towards disaster risk reduction. The traditional 3 Rs (Rescue, Relief & Restoration) are now replaced by 3 Ps (Prevention, Preparedness & Proofing) and pro-active pre-disaster preventive measures are part and parcel for building a New India by 2022 (75th year of Indian independence) as envisioned by Hon'ble Prime Minister. Some of the watershed moments in the annals of disaster management in India are enactment of Disaster Management Act, formulation of Disaster Management Policy and National Disaster Management Plan which are in line with UN resolutions, Hyogo framework (2005-15), Sendai framework (2015-2030) on natural disaster reduction and sustainable development goals. As regards techno-legal regime towards disaster risk reduction, India can boost to have in place the model town & country planning legislation, zonal regulations, development control, building regulation/byelaws for natural hazard zones of India, model building byelaws and comprehensive Indian standards on disaster management.
BMTPC under the Ministry of Housing & Urban Affairs has always played a positive role towards disaster resilience of the country and disseminating hazard resistant construction methodologies through publication of guidelines, damage assessment reports, demonstration construction, retrofitting of life line structures, expositions and capacity building. During its journey, it was realized that there is need to collate the existing hazard scenario w.r.t. earthquake, wind/cyclone and flood for the entire country delineating state/UT and district boundaries and ascertain vulnerability (level of damage risk) of existing housing stock. The then Ministry of Urban Development, constituted an expert group and the first ever Vulnerability Atlas of India was published in 1997. It was first of its kind tool which proved to be an innovative tool for assessing not only district wise hazard but also vulnerability and risk level of housing stock.
The Vulnerability Atlas of India published by BMTPC was commended as "useful tool for policy planning on natural disaster prevention and preparedness, especially for housing and related infrastructures" by the United Nation Centre for Human Settlement, Nairobi, Secretariat for International Decade for Natural Disaster Reduction (IDNDR). The IDNDR also adjudged the project with high demonstrative value
The Atlas was greatly utilized by State Governments and their agencies as a valuable guide for evolving micro level action plans for reducing the impact of natural disasters, as the highest losses are suffered by damages and destruction caused by, of housing and buildings, causing loss of lives and disruption of socio-economic activities of communities
The basic premise of development of the Atlas was to use the existing data from Government nodal agencies such as Indian Meteorological Department (IMD), Survey of India (SOI), Geological Survey of India (GSI), Census of India, Bureau of Indian Standards (BIS), Central Water Commission (CWC). Since, Census publishes housing, population and other demographic data every 10 years, it was decided that Atlas needs updation keeping the latest Census data and incorporating the latest data from other resources with regard to earthquake, wind/cyclone & floods and updated demographic, scientific and engineering information.
Accordingly, the second edition of Vulnerability Atlas of India was brought out by BMTPC in 2006 based on Census 2001 data using GIS tools and digitized maps were developed for the first-time providing hazard and seismo-tectonic information up to district level. Based on Census Housing Stock data, housing risk tables up to districts were also published based on distribution of houses by predominant material of roof and wall. In the second edition of the Atlas, to project earthquake hazard, new earthquake hazard map of India, (IS 1893:2002 -Part 1) brought out by Bureau of Indian Standards by merging Seismic zone I and II and extending zone III in the States of Maharashtra, Karnataka and Tamil Nadu, was used. All the datasets in the various maps including boundaries of the States and Districts in digitized form taken from the Survey of India maps and the boundaries of the various Hazard zones and Seismo tectonic details were digitized to bring more accuracy in the maps. Other important modifications were inclusion of landslide map based on Landslide Atlas (2003) brought out by BMTPC and revision of risk tables on the basis of 2001 Census data, with district names according to 2001 Census. The revised Atlas was published under the auspicies of a Peer Group set up by then Ministry of Urban Development and Poverty Alleviation, Department of Urban Employment and Poverty Alleviation (now Ministry of Housing and Urban Affairs), Government of India for revision of the Atlas
The Atlas thus published provided hazard maps on larger scale in digitized form so that the information is readily available to the planners, administrators and disaster managers in a user-friendly way. The state maps indicating district boundaries and names of the district towns for ease of identification of hazard zone boundaries in each district, information regarding the housing stock and the various house types, and vulnerability of existing house types based on observed performance through district-wise risk tables provided a unique platform for state and district administration to work out their disaster mitigation & management plans. Strengthening of techno legal regimes and structural measures for safer construction and retrofitting of existing houses could be more effectively implemented with the latest information available in this Atlas.
Since the publication of Vulnerability Atlas of India (2006), there has been invaluable feedback from users on the Atlas. Also, Vulnerability Atlas of India was brought out in digitized CD form in 2008 and was also uploaded on National Informatics Centre (NIC) platform. National Institute of Disaster Management (NIDM), Government of India also used the Atlas for training SAARC countries so as to prepare the region towards disaster risk reduction.
There have been subtle changes in the available knowledge and information in the area of disaster mitigation and management. New datasets with respect to earthquake occurrence, cyclones, wind storms, landslides, thunderstorm etc. have been brought out by nodal government agencies. There are demographic changes also on account of formation of new States and new districts. Thunderstorms, urban flooding, flash floods have also caused significant damages to lives and properties..
With the advancement of scientific & technical knowledge, addition of new datasets, experience of disasters caused due to earthquakes, cyclones, damages potential of landslides/mass movements, floods, frequent thunderstorms, failures of roadways and railways during disasters, changes in the political map of the country, new data statistics of walling and roofing data of houses; the revision of the Atlas was initiated by the Peer Group set up by the Ministry of Housing & Urban Affairs vide OM No.I-21011/1/2015-HFA/FTS-13218 dated 18th June 2015. The revised Atlas 2019 contains following new special features:
State and district boundaries as per Survey of India's digitized data.
1. Inclusion of railways, national highways, expressways and water bodies in hazard maps.
2. Inclusion of Housing/Population data as per Census 2011 in hazard maps.
3. Inclusion of landslide Incidence Maps with detailed note on landslide occurrences and effects.
4. Inclusion of Map showing frequencies of Thunderstorms at different stations in the country and corresponding note on causes and effect of thunderstorms.
5. Digitisation of all data sets in the various maps including boundaries of the States and Districts according to the Survey of India Maps as well as the boundaries of the various hazard zones, thus improving their accuracy.
6. The Vulnerability and Risk Tables of Housing Data in each district is now based on wall types and roof types as per 2011 Census data. The district names and reference numbers are taken according to 2011 Census for ease of cross reference.
It is my proud privilege and honour to present to nation the third edition of Vulnerability Atlas of India 2019 for hazard assessment up to district level and understanding the level of risk to the housing stock in each district of the country. It is a useful tool for urban managers including Mayer/MP/Chairperson/Municipal Commissioners, Additional/Assistant Municipal Commissioners, Town planners, departmental offices and other executives of municipal corporations/councils/municipalities who have role in formulating, approving and implementing various urban renewal scheme in their respective urban local bodies for (a) preventive actions like hazard resistant construction, retrofitting and upgrading of existing buildings, (b) mitigating the intensity and extent of the disaster, (c) warning system installation and drills for its use, (d) instituting a hierarchical structure for preparedness down to the village level, (e) training of manpower in various tasks in the emergency, (f) implementation of land zoning regulations in flood plains and coastal areas, and building byelaws with disaster resistant features in various towns and cities, etc. .
Let us prepare ourselves for disasters by expanding our knowledge so as to have zero tolerance towards loss of lives in case of future disaster.
Dr. Shailesh Kumar Agrawal
Executive Director, BMTPC